China Ricoh Print Head UV Flatbed Printer suppliers
China Ricoh Print Head UV Flatbed Printer factory
China Ricoh Print Head UV Flatbed Printer manufacturers
1. The Introduction of The Ricoh Print Head UV Flatbed Printer
Ricoh print head UV flatbed printer means a flatbed printer using Ricoh printheads. We recommend using Ricoh printheads for the flatbed printers we produce. Ricoh printheads are made of all-steel printheads, which are not easy to corrode and block. Clean the printheads and use the piston cleaning method to automatically clean, which is not easy to cause The nozzle is damaged, the nozzle and the cable are integrated, the cable is in stable contact with the nozzle, and there is no loose wire problem. Ricoh printhead printing can be divided into single-row and double-row inkjet, ink control is very good, variable single-row and double-row can also print fast and slow.
2. The Parameter of The Ricoh Print Head UV Flatbed Printer

Device model

running speed

Machine size

Applicable materials

Hapond P-3204

146㎡/h

5740mm(L)*1225mm(W)*1780mm(H)

Light box cloth/car stickers/mesh cloth/ single transparent stickers/textiles/wallpaper murals/non-woven fabrics/photo paper,etc.

Hapond Q-3000

42㎡/h

5540mm(L)*1180mm(W)*1600mm(H)

Hapond Q-3202plus

85㎡/h

5540mm(L)*1040mm(W)*1700mm(H)

Hapond Q-3203

118㎡/h

5740mm(L)*1680mm(宽)*1650mm(H)

Hapond Q-5002plus

105㎡/h

7740mm(L)*1175mm(W)*1740mm(H)

Hapond P-5203

140㎡/h

8352mm(L)*1272mm(W)*2045mm(H)

Hapond Q-5204plus

185㎡/h

8350mm(L)*1615mm(W)*2045mm(H)

Hapond H-5204

185㎡/h

8600mm(L)*2100mm(W)*1750mm(H)

Hapond S-5302

95㎡/h

8600mm(L)*2150mm(W)*1750mm(H)

Hapond P-2513

95㎡/h

4780mm(L)*2600mm(W)*1500mm(H)
2. The Features of The Ricoh Print Head UV Flatbed Printer
The Ricoh nozzle adopts intelligent X-direction and Y-direction white jump printing, automatically recognizes blank areas, skips quickly, supports multiple printing and regional printing, and is convenient for large image batch printing and large image sampling printing. Resume printing is supported for resume printing for users to stop a print job or to quit a print job due to errors during printing. Supports mirror-to-print functionality for duplex printing. Double zero positioning (double start printing), the printer can print from the beginning or the end. Realize reverse printing and forward alternate printing without wasting materials, which saves costs for customers to a large extent. In addition, our uv printer adopts imported linear guides and drag chains, has an independent ink circuit system and frame body, is equipped with a patented constant temperature printing platform, and a patented soft film printing system, which is more cost-effective than other products in the same industry. The X-axis movement direction is driven by a linear motor, and the metal optical cable guardrail (magnetic levitation) has lower running noise, higher coding accuracy and more stable performance.
3. The Qualification of The Ricoh Print Head UV Flatbed Printer
The Ricoh printhead uv flatbed printers we produce have passed the international ISO9001 certification, and the quality is worthy of your confidence. and we dare to assure you of the quality of our products. Our team has professionally trained after-sales personnel to provide customers with professional Q&A services 24 hours a day, and to solve various problems of nozzles and technical support for machine maintenance at any time. We believe that with our joint efforts, customers will be able to buy the most satisfactory machines.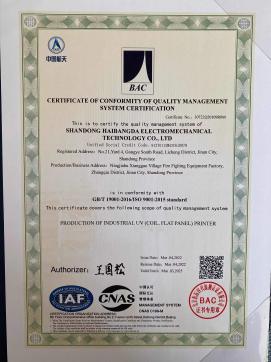 4. Deliver, Shipping And Serving of The Ricoh Print Head UV Flatbed Printer
The UV printer developed by us uses international logistics containers in transportation, which can reasonably save transportation costs while ensuring transportation speed, find the best transportation ideas for customers, product protection in place, and no transportation problems such as bumps and water ingress.

Our large industrial uv printers are all loaded and unloaded by our professional operators who drive professional vehicles.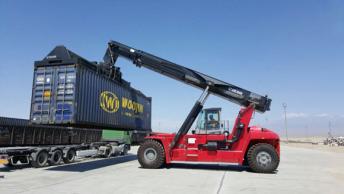 We equip every printer we sell with 24-hour after-sales customer service to ensure that we can deal with problems as soon as customers need them. Our after-sales service can help customers with simple tasks such as fault maintenance, component replacement, and system debugging. As a qualified print seller, we can send professional maintenance personnel to assist customers in overhauling the machine.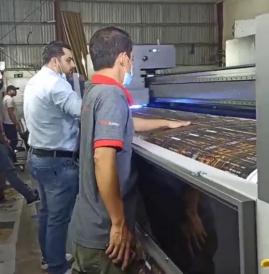 5. FAQ
1). Delivery time: Under normal circumstances, the goods will be delivered within 15-60 days after placing the order. The specific time is determined according to national regulations, excluding epidemic and other force majeure factors.
2). Customers need to prepare high-precision automatic AC voltage stabilizer.
3). Customers need to prepare an air pump with a power greater than 750W.
4). Customers need to prepare leakage protection devices above AC220V-63A.
Ricoh Print Head UV Flatbed Printer suppliers
Ricoh Print Head UV Flatbed Printer factory
Ricoh Print Head UV Flatbed Printer manufacturers