China Wide Format UV Printer factory
China Wide Format UV Printer manufacturers
China Wide Format UV Printer suppliers
1. Product introduction of The Wide Format UV Printer
Hapond Wide Format uv Printer is equipped with professional automatic ink supply and ink shortage automatic alarm system, nozzle anti-collision protection system, independent temperature control system for ink path, self-developed ultra-high sensitivity negative pressure system, and high-precision constant temperature printing platform. All use imported LED uv cold light source curing lamps, imported linear guide silent drag chains, and imported high-power AC servo motors. The high-strength integrated beam and the overall heavy-duty steel frame construction are the fundamental reasons for this machine's robustness. All Hapond uv web printers are equipped with Konica 1024A proton nozzles, which further improves the printing accuracy.
2. Product Parameter (Specification) of The Wide Format UV Printer
Device model

running speed

Machine size

Applicable materials

Hapond P-3204

146㎡/h

5740mm(L)*1225mm(W)*1780mm(H)

Light box cloth/car stickers/mesh cloth/ single transparent stickers/textiles/wallpaper murals/non-woven fabrics/photo paper,etc.

Hapond Q-3000

42㎡/h

5540mm(L)*1180mm(W)*1600mm(H)

Hapond Q-3202plus

85㎡/h

5540mm(L)*1040mm(W)*1700mm(H)

Hapond Q-3203

118㎡/h

5740mm(L)*1680mm(W)*1650mm(H)

Hapond Q-5002plus

105㎡/h

7740mm(L)*1175mm(W)*1740mm(H)

Hapond P-5203

140㎡/h

8352mm(L)*1272mm(W)*2045mm(H)

Hapond Q-5204plus

185㎡/h

8350mm(L)*1615mm(W)*2045mm(H)
3. Product Feature And Application of The Wide Format UV Printer
The industrial uv printing machine we produce provides customers with a higher monetization rate with its outstanding printing efficiency, helping our customers maximize their benefits. We have been insisting on continuous improvement of ourselves, continuous improvement of uv inkjet technology, and innovation in the process of promoting the technological innovation of uv printers, striving to become a well-known brand in the large-scale industrial uv printer industry. Our uv printers can be customized according to the actual needs of customers, putting the needs of customers first. This machine has achieved industry-leading printing speed and printing accuracy. At present, this printer is widely used by customers for large-format advertising printing and industrial-scale production, and the production efficiency is obvious to all.
4. Product Details of The Wide Format UV Printer

Machine Type

Hapond P-5204 Belt Guide Machine

Machine Size

8600mm(L) X 2100mm(W) X 1750mm(H)

Machine Weight

5000kg

Material Width

5200mm

Print Width

5200mm

Data Transmission

USB2.0/3.0

Ink Type

UV Curable Ink

Ink Color

C)(o() Optional Lc, Lm.w

Print Nozzle

Konica 1024A (optional Konica 1024i Corresponding 6PL, 13pl Print Heads)

The Print Head Can Support The Maximum Configuration

Max.21units

Relative Humidity




20-80%, the maximum humidity for paper materials should not be higher than 60%, otherwise it will affect the printing quality. For other mixed materials, the relative humidity is recommended to be higher than 40%, in order to effectively control static electricity and ensure the quality of drawing

Printing Speed

Printing Mode (3Pass): 185㎡/h Production Mode (4Pass): 150㎡/h

Fine Mode (6Pass): 105㎡/h

Inkjet Technology

On-demand piezoelectric inkjet method, UV Fixed Phone Technology

Applicable materials

Car stickers, soft film, knife scraping cloth, single transparent sticker, Xuan velvet cloth, wallpaper, etc.

Cleaning system

Single color positive pressure clear

Negative Pressure System

Independent Research And Development Of A Complete Set Of Negative Pressure System

Material Handling System

Rollotoll, Automatic Release/TakeUp

Software Output

Print Factory version with optional Caldera

Drying System

LED UV System

Guide rail and drag chain

Imported linear guide rail and silent drag chain, low noise, smoother movement, more stable printing, and extended machine life

Working Environment

Temperature20*-28*c Humidity:40%-70%RH

Print File Format

Bitmap, TIFF,QuarkXpress,JPEG,EPS, PDF Etc.

Glue Roll




Two large-diameter rubber rollers are used to connect a high-strength conveyor belt made of special materials to print synchronously with an intelligent suction induction platform to ensure that the material does not wrinkle or deviate, save materials, and realize quantitative production.




Color Control

IC CProfile/ICC Color Profile

Ink circuit system




Independent research and development, independent wind control, advanced solenoid valve color separation and ink pressure, to ensure a smoother ink supply system



Input Voltage


SinglePhase220v ± 10% (50/60Hz, AC)

Motor

Temperature: 20*-28C Humidity 40%-70%RH

Working Environment

Light box cloth, car stickers, knife scraping cloth, single transparent stickers, textiles, wallpaper murals, non-woven fabrics, 3P cloth, etc.

This large-format industrial UV printer is equipped with Konica A1024 proton nozzles, and the number of nozzles can be adjusted according to production needs. It is the well-deserved king of large-format UV printers with high printing accuracy and fast printing speed. In addition, our professional pre-sales and after-sales personnel can also provide customers with exclusive one-to-one explanations and follow-up troubleshooting services. Our assemblers have rich experience in assembly, we can provide customers with the best quality uv printing equipment.
5. Product Qualification of The Wide Format UV Printer
Our inkjet printers have been certified to the ISO-9001 international standard in the early years, and we dare to assure you of the quality of our products.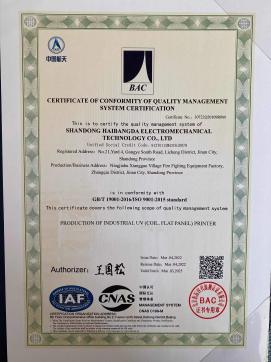 6. Deliver,Shipping And Serving of The Wide Format UV Printer
The UV printer developed by us uses international logistics containers in transportation, which can reasonably save transportation costs while ensuring transportation speed, find the best transportation ideas for customers, product protection in place, and no transportation problems such as bumps and water ingress.

Our large industrial uv printers are all loaded and unloaded by our professional operators who drive professional vehicles.
We equip every printer we sell with 24-hour after-sales customer service to ensure that we can deal with problems as soon as customers need them. Our after-sales service can help customers with simple tasks such as fault maintenance, component replacement, and system debugging. As a qualified print seller, we can send professional maintenance personnel to assist customers in overhauling the machine.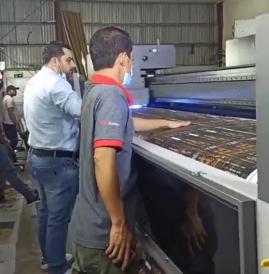 7. FAQ
1). Delivery time: Under normal circumstances, the goods will be delivered within 15-60 days after placing the order. The specific time is determined according to national regulations, excluding epidemic and other force majeure factors.
2). Customers need to prepare high-precision automatic AC voltage stabilizer.
3). Customers need to prepare an air pump with a power greater than 750W.
4). Customers need to prepare leakage protection devices above AC220V-63A.
Wide Format UV Printer factory
Wide Format UV Printer manufacturers
Wide Format UV Printer suppliers